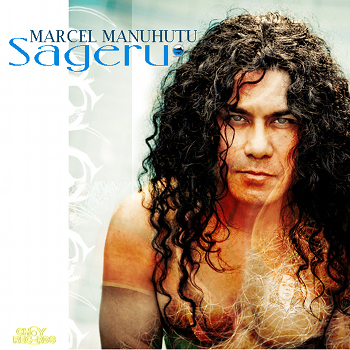 Marcel Manuhutu,artist and musician in his heart and soul.Born in The Netherlands,Gouda;he was raised during his youth in Vlaardingen,a city under the smoke of Rotterdam.
His first passion was for sports especially martial arts,but his goal in his life changed for the role music played in his family.His first great idol was his father who performed as a singer with the Rudy Wairata Band.He learned his first skills how to be a professional singer by him.Marcel grew up with a variety of music;folklore to soul,Hawaiian upto English orientated music.
Because of his Indonesian background,raised in the Netherlands,he was raised mulitlingually.Marcel had an enormous admiration for soul musicians like Michael Jackson,Prince,Luther Vandross.One of his anekdotes is that he used to listen as a little boy,lying on the ground,to the song Ben of Michael Jackson.This showed affectively that he did not care about the repeatments of the song as long as it sounded beautifully.
After all repeatment is the mother of the study.After seen his father performing a lot and learning by his fahter he started his first performance experiences throughout talent shows.Out of this he gained more performances and the first step was being made as a solo artist.After that he joined the group of Karin Nagi,SPIRIT.
Under supervision of Maywood they recorded some songs.The song Technique was their high light.The musical time with SPIRIT was highly educational for him and he met a lot of people from the music business.Because of that he got familiar with the music scene and played with a lot well known and unknown bands and musicians.Marcel had the idea to record the song Sageru from fis family band MASSADA.He was convinced that the track Sageru could be a hit again and indeed he got a lot of attention by it.After many performances,productions and foreign trips he is back.
At this moment Marcel has his remake release of "Sageru" created under supervision of Sébastièn Choy for CHOYRECORDS and this promises to be a danceable comeback.
---